Everything You Ever Wanted to Know about Joining the Military
By Jessie Smith on Monday, October 15, 2018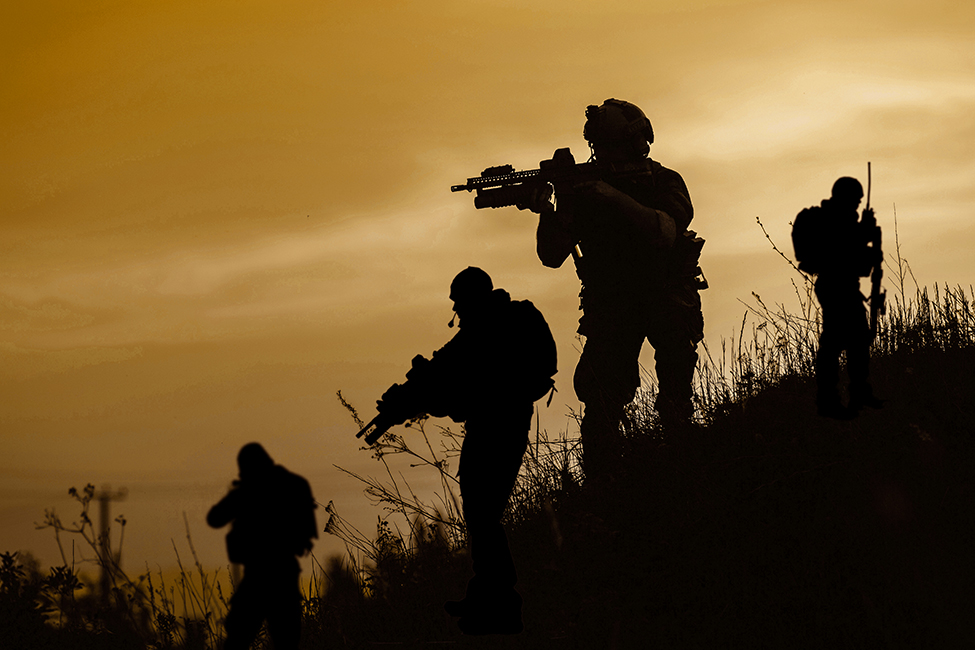 You might think you've heard all you need to know about the military. Your school counselors have probably told you that enlisting can help pay for your education, and recruiters will talk about the adventure and lifelong skills. They all have a point, but there's more to the military than you think.
First things first…
Enlisting for an Education
Most of the time, you can use the different education packages to pay for your college without emptying your own pocket. Through the National Guard, you attend college like a normal student, and you serve your commitment on weekends, during the summer and after graduation. When you join the Navy, you can take online classes at night, or if you're deployed, you can sometimes attend classes on the ship. Depending on what career field and school you choose, you can earn college credit through your job training with the Marine Corps.
You may not be able to finish your degree all at once, and your commitment to your branch will come first, but you can always finish your degree when you complete your obligation.
While some in the military believe you should join out of patriotism alone, plenty of others realize there are several motivations for enlisting in the service. Petty Officer Christopher Del Rio of the Navy said there's nothing wrong with signing up purely for the educational benefits.
"Everybody has a different reason," Del Rio said.
And then…
Using that Education
Many jobs in the six branches of the military easily translate into civilian careers when you finish your service. After boot camp, you go through job training to prepare for your career in the military, and sometimes you can earn a few college credits through this avenue.
Sgt. David Hoisington of the Army said students typically ask about the types of jobs available to them.
"We have everything from medicine and law to mechanics and military intelligence," Hoisington said.
No matter what you choose, you still have those skills when you return to the civilian workforce. Job experience goes a long way when you start searching for your second career.
HOW TO JOIN
Talk to a recruiter.
You probably have one near you, and you can always contact someone through the specific branch's website. The recruiter will tell you all you need to know, and if you're interested, he or she will help you take the next steps.
Take the ASVAB.
The Armed Services Vocational Aptitude Battery is offered at the MEPS (Military Entrance Processing Station), your high school or through the recruiter. Each branch has a minimal score to join, and your score ultimately determines your eligibility for certain jobs.
Get physically fit.
Each branch has different standards for their recruits, but no matter where you sign up, you need to reach a certain level of fitness. Your body fat percentage is critical, and you can expect timed miles, pullups, pushups and crunches.
Go to MEPS.
The Military Entrance Processing Station is where you go through a physical evaluation, take the ASVAB (if you haven't yet) and officially sign the papers. If you have any medical issues, you need to report them now.
Head to boot camp.
Boot camp is different for every branch, but you will learn a lot in a short amount of time, and you'll be pushed to the physical limit. However, you'll bond with your fellow recruits, and graduation is a huge accomplishment.
---
THE BRANCHES
ARMY
Recruiting: GoArmy.com
Boot Camp Length: 10 weeks
Length of Service Required: Eight years if recipient of Army ROTC scholarship.
ROTC Programs in Arkansas: Arkansas State University, University of Arkansas, University of Arkansas at Pine Bluff and University of Central Arkansas (other colleges offer Army ROTC classes through these universities)
Basic Training Locations: Fort Benning, Georgia; Fort Jackson, South Carolina; Fort Leonard Wood, Missouri; Fort Sill, Oklahoma and Fort Knox, Kentucky
NAVY
Recruiting: Navy.com
Boot Camp Length: Eight weeks
Length of Service Required: Five years of active duty if recipient of NROTC scholarship.
ROTC Programs in Arkansas: None, the closest boot camp is at Naval Station Great Lakes in Illinois
MARINE CORPS

Recruiting: Marines.com
Boot Camp Length: 12 weeks plus combat training
Length of Service Required: Tuition assistance is only available to those in active duty. Officers must serve two years of active duty if recipient of tuition assistance.
ROTC Programs in Arkansas: None
Recruit Training Locations: Marine Corps Recruit Depot Parris Island, South Carolina and Marine Corps Recruit Depot San Diego, California
AIR FORCE

Recruiting: AirForce.com
Boot Camp Length: Seven weeks
Length of Service Required: Four years of active duty if recipient of Air Force ROTC scholarship.
ROTC Programs in Arkansas: University of Arkansas (other colleges offer Air Force ROTC through U of A)
Basic Training Location: Lackland Air Force Base, Texas
COAST GUARD

Recruiting: GoCoastGuard.com
Boot Camp Length: Eight weeks
Length of Service Required: Four years of active duty if recipient of CSPI scholarship.
Programs in Arkansas: None, but there is one nearby in Cordova, Tennessee
AIR NATIONAL GUARD

Recruiting: GoANG.com
Boot Camp Length: ANG recruits attend basic training, as well as the technical school for their chosen career, alongside active duty Air Force enlistees. Basic is about eight and a half weeks long and technical schools range from six to 52 weeks, depending on your career.
Length of Service Required: Six years
Major Training Facilities: Ebbing Air National Guard Base in Fort Smith; Little Rock Air Force Base in Jacksonville
NATIONAL GUARD

Recruiting: ARGuard.org
Boot Camp Length: 10 weeks
Length of Service Required: Your total enlistment period will be eight years, but you can serve as little as three or six years, and spend the remainder in Individual Ready Reserve (IRR).
Major Training Facilities: Robinson Maneuver Training Center, North Little Rock and Chaffee Maneuver Training Center near Fort Smith

SOURCES: ED.gov, NationalGuard.com, MilitaryOneSource.mil, Marines.com, CNIC.Navy.mil, MCRDSD.Marines.mil, MCRDPI.Marines.mil and GoCoastGuard.com
---
Common Misconceptions about the Military
Sgt. Mervens Vincent of the Marine Corps said that a lot of high school students have misconceptions about joining the military.
Movies and TV shows lead us to think the military is nonstop action and danger because that's what you see on the big screen. Actual life in the force is a little different.
Misconception: You will definitely get deployed and face danger every day.
Truth: Most soldiers never get deployed, and if you join a field like data systems or air traffic control, you will likely never encounter active warfare.
Misconception: Your only possible job is marching with a gun.
Truth: All the branches offer a wide variety of jobs. You can join the accounting office or public affairs, or you can serve in the culinary department as a cook or in legal services as a lawyer. The Marine Corps even has a band.
Misconception: You're signing your life and freedom over to the government.
Truth: You are making a commitment, but you get 30 days of vacation time out of the year. You can change your job if you don't like it (with some stipulations such as your qualifications and what's available), and when your term is finished, you don't have to re-enlist.
---
Enlisting
Should You Or Shouldn't You?
Dorothy Zaunbrecher is a counselor at Benton High School, and she has seen students gravitate toward the military to serve their country, make a financial investment, pursue a college degree or utilize the military's strong support system. Students typically change their mind about the military when they realize they don't want to leave home or they find a job or different way to pay for college.
"I am an advocate for young people going into the service," Zaunbrecher said. "It is sometimes the greatest avenue to help students become productive and successful citizens. I have seen students who seemed hopeless in high school become vibrant, happy people from serving."
PROS
• Health care for you and your family
• Educational benefits
• Housing and food allowances
• Vacation time 30 days per year
• Specialty training
• Retire young (with pension) and start a second career
• Travel and adventure
• Patriotically serving your country
CONS
• No longer a civilian
• Years-long commitment
• May not get your degree all at once
• Even in inactive reserve, automatically drafted in the event of a huge war
• Away from your family and friends
• Not guaranteed the job you want
• Not as much control over where you live
The military isn't for everyone, but if traditional college isn't for you and you hesitate to automatically join the workforce at 18, then consider this third option.
Permalink