Learn the essentials about your new home, from billing to amenities.
1. The Bill.
This is going to vary from student to student depending on course load, financial aid, meal plans, etc., but there are prices for your review. Can you afford a four-year degree at this school? Is living on campus in your budget? What does it cost to go Greek? These are the first and most important things to figure out.
While you're scoping out the bill, be sure to nail down where you'll need to go to pay it.
Pro tip: Electronic payments and digital forms have made paying for and enrolling in classes each semester much easier – bookmark these web pages on your laptop!
2. Your New Daily
Locate the places you will use every single day. You need to actually feel comfortable there, as you'll spend a lot of time in these facilities over the next two, four or more years. The classrooms and resources in the school of engineering or journalism or business – or whatever major you're considering – the library, the student union, dining halls and computer labs. What do you think of these key spots?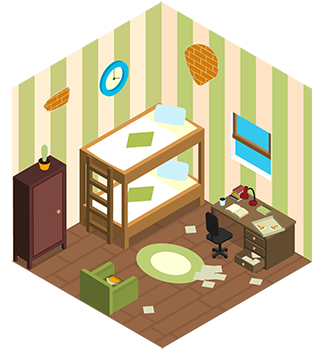 3. The Dorms
Get ready for a reality check. Dorm rooms are tiny. During the obligatory residence hall tour and model dorm sneak peek, take note of the items that utilize the space best or that you think you'll need. Most schools have premium accommodations and suite-style dorms available too (although your housing options are often restricted freshmen year). Ask for info on all the options, including Greek housing, anyway.
Pro tip: Take a Sneak Peek at Your Future Dorm Room for photos of real dorms at Arkansas colleges!
4. The Amenities
Part of what makes college special are the many free amenities schools provide students. Ask to see the health center (where you can generally go for free if you're sick), the gym, the career services center, the intramural fields, any arts venues, etc. Your tour guide is likely a current student, so ask them about the amenities they use most or love.
5. The Town
Remember that you won't just be living at the college you choose; you'll be living in the city in which the college resides. So check out the town! Whether you're looking for a big-city feel, proximity to nature or something in between, there's a place for everyone in Arkansas.
Pro tip: Consider an overnight trip instead of just driving up for a tour. This gives you time to experience the surrounding community.
Permalink