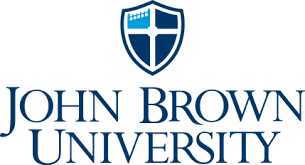 2000 W. University St.
Siloam Springs, AR 72761
Phone: (479) 524-9500
Fax: (479) 524-7348
Online: jbu.edu
John Brown University, founded in 1919 in Northwest Arkansas, is a Christ-centered university for students who want a top-notch education. JBU's approach to education draws students into community, helps them explore their purpose, equips them to succeed and encourages them to honor God in all areas of life.
School Type
4 Year , Online , Concurrent Credit , Graduate School
Admissions Information
Requirements
2.5 unweighted high school GPA and an ACT score of 20, an SAT score of 1020 or a CLT score of 66. JBU also offers test-optional admission based on writing ability, high school GPA and interview responses.
Admissions Phone
(479) 524-7454
Scholarship Information
Highlights
Last year, the average financial aid package from JBU for incoming students was over $16,000. Arkansas students may qualify for JBU's Gap Grant. It's a one-time $3,000 boost from JBU for incoming freshmen who receive the Arkansas Academic Challenge Scholarship.
More Information
Click Here
Scholarship Email
finaid@jbu.edu
Scholarship Phone
(479) 524-7454
Tuition Information
Early Application Deadline
Rolling Admissions
Bilingual Admissions Contact
Samuel Estrada
(479) 524-7454
Financial Aid Information
Highlights
Students and families are often overwhelmed by the price of college, so we take a personal approach to financial aid that helps them make JBU an affordable investment in their future.
Financial Aid Contact
David Burney
Director of Financial Aid
Degree Programs
Construction Management
General Education
Accounting
Art & Illustration (Choose focus in: Fine Art or Illustration)
Biblical Studies (or Biblical Theological Studies, or Biblical & Theological Studies)
Biochemistry
Biology
Chemistry
Christian Ministry & Formation
Construction Management
Digital Cinema
Educational Studies
Elementary Education
English Education (or Teacher Licensure, or Teaching Emphasis)
Entrepreneurship & Innovation
Family & Human Services
Finance
Graphic Design
History
Intercultural Studies (Choose focus in: General, Community Development, International Studies or Intercultural Ministries)
International Business
Kinesiology (Choose focus in: Health & Wellness or Sports Medicine)
Management
Marketing
Mathematics
Mathematics Education (or Teacher Licensure or Teaching Emphasis)
Music
Music–Applied (Choose focus in: Organ, Piano or Voice)
Music–General (Choose focus in: Organ, Piano, Instrumental Music or Voice)
Music Education (Choose focus in: Organ, Piano or Voice)
Nursing
Outdoor Leadership Ministries
Philosophy
Photography
Political Science
Pre-Dentistry
Pre-Law
Pre-Med (or Pre-Medical, or Pre-Medicine)
Psychology
Social Studies Education (or Social Studies—Teaching Emphasis)
Spanish
Worship Arts (Choose focus in: Organ, Instrumental Music, Piano or Voice)
Youth Ministries (or Youth Ministry)
Business (General)
Computer Science
Electrical Engineering
English
Mechanical Engineering
Business Data Analytics
Criminal Justice
Cybersecurity
Economics
Computer Science Education
Criminal Justice & Criminology
Science Education
Business Administration
Cybersecurity
Design Thinking & Innovation
Health Care Administration
Higher Education
International Business
Leadership
Market Research & Consumer Insights
Marriage & Family Therapy
Outdoor Program Management
School Counseling
Special Education
Teaching
Accounting
Education
Community Counseling
Counseling