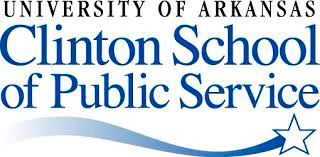 University of Arkansas Clinton School of Public Service
1200 President Clinton Ave.
Little Rock, AR 72201
Phone: (501) 683-5200
Fax: (501) 683-5210
Online: clintonschool.uasys.edu
The first school in the nation to offer a Master of Public Service (MPS) degree through in-person and online formats, the University of Arkansas Clinton School of Public Service gives students the knowledge and experience to further their careers in the areas of nonprofit, governmental, volunteer or private sector service.
School Type
Graduate School
Admissions Information
Requirements
The Clinton School does not require the GRE. However, the GRE, MAT, LSAT, and GMAT are acceptable. Scores more than 5 years old will not be accepted.
Admissions Phone
(501) 683-5228
Scholarship Information
Highlights
The Clinton School awards financial aid in the form of scholarships. The amount awarded varies according to need, merit, and the availability of funds. Scholarship money can be used for tuition and/or living expenses.
More Information
Click Here
Scholarship Email
admissions@clintonschool.uasys.edu
Scholarship Phone
(501) 683-5228
Tuition Information
The total cost of the two-year in-person degree program is $18,080. The total cost of the two-year online degree program is $33,600.
In-state Tuition
$18,080.00
Early Application Deadline
10/15/2022
Financial Aid Information
Highlights
Domestic students are eligible for both merit-based and U.S. federal need-based financial aid. International students are eligible for Clinton School merit-scholarship consideration.
Financial Aid Contact
Alex Thomas
Enrollment Director