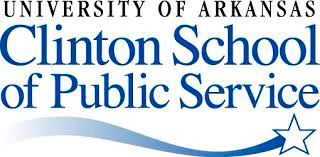 Clinton School of Public Service at the University of Arkansas
1200 President Clinton Ave.
Little Rock, AR 72201
Phone: (501) 683-5200
Fax: (501) 683-5210
Online: clintonschool.uasys.edu
The Clinton School of Public Service at the University of Arkansas, the first in the nation to offer a Master of Public Service, uses an intentional, high-touch approach to provide its students with the knowledge and experience to further their careers as leaders in the areas of nonprofit, governmental, volunteer, or private sector service.
School Type
Graduate School
Admissions Information
Requirements
The Clinton School does not require the GRE. However, the GRE, MAT, LSAT, and GMAT are acceptable. Scores more than 5 years old will not be accepted.
Admissions Phone
(501) 683-5220
Scholarship Information
Highlights
For the Fall 2024 enrollment cycle, the Clinton School is increasing the number of merit-based scholarship opportunities available to enrolling students. Enhanced cost-of-living stipends are also available.

The average scholarship-to-tuition ratio for the most recent enrolling cohort is 70%. After receiving scholarship and stipend support, students pay on average less than $3,300 annually to earn their Master of Public Service degrees.

Priority consideration for funding will be given to those to complete their application by Oct. 15.
More Information
Click Here
Scholarship Email
rvillafane@clintonschool.uasys.edu
Scholarship Phone
(501) 683-5220
Tuition Information
The Clinton School's two-year MPS is 46 total credit hours at a cost of $493.50 per credit hour. The figure above is for 23 total hours, or the half the program.
In-state Tuition
$11,350.00
Early Application Deadline
10/15/2023
Financial Aid Information
Financial Aid Contact
Rachel Villafane
Manager of Enrollment and Student Services
Financial Aid Priority Deadline
Oct 15, 2023