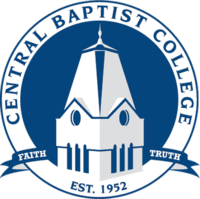 1501 College Ave.
Conway, AR 72034
Phone: (501) 329-6873
Fax: (501) 329-2941
Online: www.CBC.edu
At Central Baptist College, our goal is to help you reach your academic and career goals as part of God's plan for your life. Whether you are graduating from high school or returning to college after being in the workplace, CBC can provide you the tools and training you need to reach your goals.
Admissions Information
Requirements
ACT score of 19; SAT score of 1400
Scholarship Information
Highlights
More than 50 endowed scholarships and five levels of academic scholarships available. Dec. 10 and Feb. 15 are priority application deadlines. Athletic and Music scholarships are also available.
Tuition Information
Based on two 15-hour semesters including mandatory fees
Financial Aid Information
Highlights
Please call (501) 205-8911 for Financial Aid information tailored to you.
Degree Programs
Accounting
Administrative Office Technology
Administrative Services
Advanced Emergency Medical Technology
Advanced Manufacturing Technology
Advanced Manufacturing (Choose a focus in: Welding, Machine Tool Tech, Electromechanical Tech, Electrical Engineering Tech, or Mechanical Engineering Tech)
Agricultural Science
Agriculture (or Agricultural, Food & Life Sciences, or Agriculture & Natural Resources)
Agriculture Equipment Technology
Agriculture Technology
Air Conditioning, Heating & Refrigeration Technology
Allied Health
American Sign Language Studies
Applied Electronics Technology
Apprenticeship Trades
Arts
Automation Systems Integration-Electronics
Automation Systems Integration-Manufacturing
Automation Technology
Automotive Service Technology
Aviation (or Pilot, or Commercial Pilot)
Aviation Maintenance (or Aviation Maintenance Technology)
Baking & Pastry Arts
Behavioral Health Technology
Biblical Studies
Biomedical Electronics Technology
Business
Business Administration
Business Administrative Technology
Business Computer Information Systems (or Business Information Technology, or Business Information Systems Technology)
Business Management
Business Services
Business Technology (or Business Technologies, or Business Technology Applications)
Business Technology (Choose a focus in: Banking, Human Resources Management or Supply Chain Management)
Cardiovascular Technology
Certified Respiratory Therapist
Chemistry
Child Care / Child Development
Christian Education
Christian Studies
Clinical Laboratory Science
Collision Repair & Refinishing Technology
Computer Graphic Technology
Computer Information Systems
Computer Information Systems Technology (or Computer Information Technology)
Computerized Machining Technology
Computer Network Technology (or Computer Networking Technology, or Computer Systems & Networking Technology)
Computer Programming
Computer-Aided Drafting & Design
Construction Management
Construction Management Technology
Construction Science
Construction Technology
Cosmetic Science
Crime Scene Investigation
Criminal Justice
Criminal Justice & Corrections
Criminal Justice Technology
Criminology
Culinary Arts
Culinary Arts/Hospitality
Cybersecurity
Dental Hygiene
Diagnostic Medical Sonography
Dietetics
Digital Media
Digital Media Production
Disaster Preparedness & Emergency Management
Drafting
Drafting & Computer Aided Design Technology
Drafting & Design Technology
Early Childcare Education
Early Childhood Education/Development - Birth to Pre-K credential
Early Childhood Education/Development (Choose a focus in K-6th Grade or Mid-Level)
Early Childhood Paraprofessional Technology
Education
Education: K-12 PE & Health
Electromechanical Technology (or Electrical & Electronics Technology, or Electronics Technology)
Emergency Medical Technology (or Paramedic, or Emergency Medical Technician)
Energy Control Technology
Engineering Technology
Engineering Technology (Choose a focus in: Electrical or Mechanical)
Entrepreneurship
Environmental & Safety Technology
Environmental Regulatory Science
Fine Arts
Fire & Emergency Response
Fire Science
Fire Science Administration & Technology (or Fire Science Management)
Forest Harvesting Technician
Forest Technology (Applied Science)
Funeral Services
General Business
General Education
General Education (PACE)
General Education-Liberal Arts
General Education-Science
General Studies
General Technology
General Technology-Applied Sciences
General Technology-Hospitality
Graphic Communications
Graphic Design
Health Information
Health Information Management
Health Information Technology
Health Professions
Health Science
Health Sciences (choose emphasis: Practical Nursing or Pre-Sports Medicine)
Heating, Air Conditioning, & Refrigeration Technology
Histotechnology
Hospitality Administration
Hospitality Management
Human Resources
Human Services
Human Services (Choose a focus in: Social Work or Addiction)
Industrial Control Systems
Industrial Mechanics & Maintenance (or Industrial Technology, Maintenance Technology, or Industrial & Mechanical Technology)
Industrial Technology: Mechatronics
Information Systems Technology (or Information Technology, Information Science Technology or Information Systems)
Information Systems Technology-Graphic Design
Interdisciplinary Studies
Interdisciplinary Studies-Church Leadership
Land Surveying Technology
Law Enforcement
Law Enforcement Administration
Legal Assistance/Paralegal Studies
Liberal Arts (or Liberal Studies)
Liberal Arts & Sciences
Logistics Management
Management
Mechatronics
Medical Assistant (or Medical Assisting)
Medical Assisting Technology
Medical Dosimetry
Medical Imaging
Medical Laboratory Science
Medical Laboratory Technology (or Medical Laboratory Technician)
Medical Office Administration (or Medical Office Management)
Medical Sciences
Middle School Education
Military Technologies
Ministry
Multimedia Technology
Music Business
Natural Scienes
Nuclear Medicine Technology
Nuclear Technology
Nursing (or Registered Nursing)
Nursing-Accelerated PN-RN
Nursing-LPN/LPNT TO RN
Nursing-LPN/LPTN TO RN
Nursing-LPN/Paramedic to RN
Occupational Therapy Assistant
Office Administration
Office Management
Office Management Technology
Office Occupations
Office Technology
Ozark & Ouachita Studies
Paralegal Studies
Paralegal Technology
Paramedic Technology
Paramedic/Emergency Medical Services
Performance & Media Arts
Pharmacy Technology (or Pharmacy Technician Science)
Physical Therapist Assistant (or Physical Therapy Assistant)
Poultry Science
Power Plant Technology
Practical Nursing
Pre-Engineering
Process Technology
Professional Studies
Psychology
Public Administration
Radiography
Radiologic Technology
Recreation & Leisure Services Management
Recreation & Natural Resources Management
Religious Studies
Renewable Energy Technology
Respiratory Care (or Respiratory Therapy, or Respiratory Care Technology)
Skilled & Technical Services
Sleep Technology
Steel Industry Technology
Supply Chain Management
Surgical Technology
Surveying
Technology
University Studies
Unmanned Aerial Systems
Urban Community Leadership
Veterinary Technology
Visual & Media Arts
Visual Communication
Welding
Welding Technology
Workforce Leadership
Workforce Technology
Accounting
Addiction Studies
Advertising
African-American Studies
Agricultural Business
Agricultural Education
Agricultural Education, Communication, & Technology
Agriculture (or Agricultural Studies)
Agriculture Business
Agriculture Sciences
American Sign Language (English)
American Studies
Animal Science
Animation Technology
Anthropology
Apparel Merchandising & Program Development
Applied Mathematics
Applied Physics
Applied Science
Applied Spanish
Architectural & Construction Engineering
Architecture (or Architectural Studies)
Art
Art–Studio Art
Art & Design
Art & Design–Interactive Media
Art & Design–Marketing
Art & Illustration (Choose focus in: Fine Art or Illustration)
Art Education (or Art: Teacher Liscensure, or Art: Teaching Emphasis)
Arts–Engineering
Art History
Arts–Interdisciplinary Studies
Athletic Training
Aviation
Bachelor of Applied Science
Bible
Bible & Family Ministry
Bible & Ministry
Bible & Missions
Bible & Preaching
Biblical Languages (Greek, Hebrew)
Biblical Linguistics Studies
Biblical Studies (or Biblical TheologicalStudies, or Biblical & Theological Studies)
Biochemistry
Biochemistry & Molecular Biology
Biological Engineering
Bio-Physics
Biological Sciences
Biological Sciences—Teaching Emphasis (or Biology—Teacher Licensure )
Biology
Biomedical Engineering
Biotechnology
Broadcast Journalism
Business (General)
Business Administration
Business Administration & Accounting
Business Administration–Finance, Management or Marketing
Business Administration–Sports Management Concentration
Business Analytics
Business Data Analytics
Business Economics
Business Education
Business Information Systems
Business Technology 4-12
Business: Accounting
Business: Management
Business: Marketing
Cardio-Respiratory Care
Career & Technical Education
Celtic Studies
Chemical Engineering
Chemical Physics
Chemistry
Chemistry–Teaching Emphasis
Chemistry/Physics
Child Development
Child Life
Childhood Education
Christian Education
Christian Leadership
Christian Media & Communications
Christian Ministry
Christian Ministry & Formation
Christian Missions
Church Media/Production Arts
Church Music
Civil & Construction Engineering
Civil Engineering
Classical Studies
Clinical Laboratory Science
Communication
Communication Advertising
Communication Disorders
Communication–Media Communication
Communication–Media Production
Communication–Public Relations
Communication Sciences & Disorders
Communication Sciences & Disorders–Non-Clinical
Communication Studies
Communication–Strategic
Computer Engineering
Computer Gaming & Animation Design
Computer Information Systems (or Computer Information Technology, or Computer Information Science)
Computer Science
Computer Sciene–5th Year Option
Computer Science Education
Computer Science–Privacy & Cyber Security
Computer Science Licensure–Chemistry Emphasis
Computer Science/Applied Computing–Five-year program
Computer Technology
Construction (Professional Studies)
Construction Management
Construction Management–Business Administration
Construction Management–International
Creative Media Production
Creative Writing
Criminal Justice
Criminal Justice & Criminology
Criminology
Crop Science
Cultural & Geospatial Studies
Cybersecurity
Cytotechnology
Dance Performance
Dental Hygiene
Diagnostic Medical Sonography
Dietetics (or Dietetics & Nutrition)
Digital Cinema
Digital Filmmaking
Disaster Preparedness & Emergency Management
Drama/Speech–(7-12 Teacher Licensure)
E-Commerce
Early Childhood Development
Early Childhood Education
Earth Science
Economics
Economics & Business
Economics & Finance
Education
Education (Birth-K)
Education–Teacher Licensure
Education: Business Education
Education: Elementary Education
Education: Physical Education
Educational Studies
Electrical Engineering
Electronic Media Production
Electrical & Computer Systems Engineering
Elementary Education
Emergency Administration & Management
Emergency Medical Sciences
Engineering
Engineering (Choose focus or combination focuses in: Electrical, Computer, Mechanical and Renewable Energy)
Engineering–Civil
Engineering & Physics
Engineering Technology–Mechanical
Engineering Technology–Welding
English
English Education (or Teacher Licensure, or Teaching Emphasis)
English (Writing)
English (Literature)
Entrepreneurship & Innovation
Environmental Analysis Sequence
Environmental Engineering
Environmental Health Sciences
Environmental Science/Studies
Environmental Soil & Water Science
Environmental Studies
Exercise Science
Family & Consumer Sciences
Family & Human Services
Family Life Education
Family Psychology
Fashion Merchandising
Film Studies 
Finance
Fine Art
Fisheries & Wildlife Biology (or Fisheries Biology)
Food, Nutrition & Health
Food Science
Foreign Language
Foreign Language & International Studies
Foreign Languages Education
Forestry
French
French–Teacher Licensure
Game, Animation & Simulation
Game & Interactive Design
Geography
Geology
Geoscience
Graphic Design
Health & Kinesiology–P-12 Teacher Licensure
Health & Physical Education
Health Care Management
Health Education
Health Information Management
Health Information Technology
Health Promotion
Health Science
Health Studies
Health, Human Performance & Sport Management
Health, Physical Education & Exercise Science
History
Horticulture, Landscape & Turf Sciences
Hospitality Administration (or Hospitality Management)
Hospitality Administration–Food Service
Hospitality Administration–Lodging Management
Hospitality Food Service
Human Development & Family Sciences
Human Environmental Sciences
Human Nutrition & Dietetics
Human Resource Management (or Human Resource & Workforce Development Education)
Human Sciences
Human Sciences–Education
Human Services
Humanities
Imaging Science
Industrial Engineering
Industrial Technology
Information Assurance (Professional Studies)
Information Science
Information Systems
Information Technology
Innovation & Entrepreneurship
Innovative Media
Insurance & Risk Management
Intercultural Studies (Choose focus in: General, Community Development, International Studies or Intercultural Ministries)
Interdisciplinary Liberal Studies
Interdisciplinary Studies
Interior Design
Interiors Merchandising
International Business
International Relations
International Studies
International & Global Studies
Interpretation: American Sign Language (English)
Journalism
Kinesiology (or Kinesiology & Leisure Studies, or Kinesiology–Exercise Science, or Kinesiology & Physical Education)
Kinesiology (Choose focus in: Health & Wellness or Sports Medicine)
Kinesiology & Leisure Studies (Choose focus in: Fitness, Pre-professional, Recreation or Teaching)
Kinesiology–Sports Management
Land Surveying
Landscape Architectural Studies
Landscape Architecture
Leadership
Leadership & Ministry
Liberal Arts/General Studies
Liberal Studies
Life Science & Earth Science
Linguistics
Literary Studies 
Logistics & Supply Chain Management
Management
Management & Marketing
Management Information Systems
Marketing
Marketing (Choose focus in: Media, Retailing or Sales)
Mass Communication (or Multimedia Communication, or Media Communications, or Mass Media Communication)
Mathematics
Mathematics Education (or Teacher Licensure or Teaching Emphasis)
Mathematics: Data Science
MAT – Special Education K-12
Mechanical Engineering
Mechanical Systems Engineering
Medical Dosimetry
Medical Humanities
Medical Laboratory Science
Medical Science
Medical Technology
Middle School Eduation (or Middle Level Education, or Middle Childhood Education, or Middle Childhood/Early Adolescence )
Missions
Modern Languages
Modern Languages: Business Chinese
Modern Languages: Chinese
Modern Languages: Chinese Teaching Licensure
Molecular & Cellular Biology
Molecular Biosciences
Music
Music–Applied (Choose focus in: Organ, Piano or Voice)
Music–General (Choose focus in: Organ, Piano, Instrumental Music or Voice)
Music Business
Music Composition
Music Education
Music Education (Choose focus in: Organ, Piano or Voice)
Music Education K-12
Music Education–Choral
Music Education–Instrumental
Music Performance (or Music Performance–Voice, Keyboard, Instrumental)
Music–Instrumental
Music–Instrumental (Teacher Licensure)
Music–Voice, Keyboard, Instrumental
Musical Theatre–Music Emphasis
Musical Theatre–Teaching Emphasis
Natural Resources Management
Natural Science
Nuclear Medicine Imaging Sciences
Nuclear Medicine Technology
Nuclear Physics
Nursing
Nursing–Completion Program
Nutrition
Nutrition & Dietetics
Ophthalmic Medical Technology
Organizational Management (or Organizational Leadership)
OTD–Occupational Therapy
Outdoor Leadership Ministries
Performance
Performing Arts
Philosophy
Philosophy & Religion
Philosophy–Christian Studies
Photography
Physical Education
Physical Education K-12 (or Physical Education & Health K-12, or Physical Education/Wellness & Leisure K-12)
Physical Science
Physical Science & Earth Science
Physical Sciences–Teaching
Physics
Physics Education
Physics–Engineering
Physics–Mathematics
Plant & Soil Science
Political Science
Politics
Poultry Science
Pre-Agriculture
Pre-Allied Health
Pre-Architecture
Pre-Dental Hygiene
Pre-Dentistry
Pre-Engineering
Pre-Law
Pre-Library Science
Pre-Med (or Pre-Medical, or Pre-Medicine)
Pre-Medical Technology
Pre-Nursing
Pre-Optometry
Pre-Pharmacy
Pre-Physical Therapy
Pre-Physician Assistant
Pre-Professional Health Sciences
Pre-Veterinary Medicine (or Pre-Vet, or Pre-Veterinary Science)
Preprofessional Health Sciences
Professional & Technical Writing
Professional Chemistry
Professional Sales
Professional Studies
Psychology
Psychology–Family & Human Services
Psychology–Specialty
Psychology & Counseling
Psychology & Social Services
Psychology of Human Behavior
Public Administration
Public Health
Public History
Public Relations
Radiation Therapy
Radio/Television/Video
Radiography
Radiologic Imaging Science
Radiologic Sciences
Radiologic Technology
Recreation
Recreation & Park Administration
Recreation & Sport Management
Regulatory Science
Rehabilitation Science
Religion
Religion & Philosophy
Religious Studies
Renewable Energy
Retail
Rhetoric & Writing
Science
Science Education
Secondary Education
Secondary Level–English/Language Arts
Secondary Level–Life Sciences
Secondary Level–Social Studies
Social Media Management
Social Justice Studies
Social Science
Social Science– Teacher Licensure
Social Studies
Social Studies Education (or Social Studies—Teaching Emphasis)
Social Work
Sociology
Sociology/Anthropology
Software Development
Software Engineering
Spanish
Spanish–Teaching Emphasis
Spatial Information Systems
Special Education (K-12)
Special Education (Mildly Handicapped K-12)
Special Education Endorsement
Speech (or Speech Communication)
Speech Communication & Theatre Arts–Teaching Emphasis
Speech Education
Sport & Recreation Management (or Sport Management)
Sports Management (Choose focus in: Athletic Administration, Coaching or Sports Informatrion)
Strategic Communications
Studio Art
Supply Chain Management (or Logistics)
Teaching & Learning
Technology
Theatre
Theatre Arts–Teaching Emphasis
Theatre Design Production
Theology
Urban Community Leadership
Visual Arts Studio
Vocal Music
Vocal–Teacher Licensure
Vocational Education–Business Technology
Web Design Development
Web Design & Interactive Media
Wildlife & Field Biology
Wildlife Management (or Wildlife Ecology & Management)
World Languages & Cultures (or World Languages)
Worship Arts (or Worship Ministry, or Church Music)
Worship Arts (Choose focus in: Organ, Instrumental Music, Piano or Voice)
Writing
Youth & Family
Youth Ministries (or Youth Ministry)