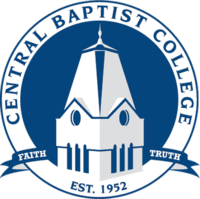 1501 College Ave.
Conway, Arkansas 72034
Phone: (501) 329-6873
Fax: (501) 329-2941
Online: cbc.edu
Central Baptist College is located in Conway, Arkansas and is one of the fastest growing cites in central Arkansas and the state. The beautiful campus is nestled in Conway's downtown Historic District and within walking distance of restaurants, shopping, and walking & biking trails. Conway is also minutes away from some of the best hiking and canoeing venues in the state. CBC is committed to transforming lives through academic excellence in a Christ-centered environment. Whether students choose the in-class, online or hybrid classroom. Traditional or nontraditional students experience a challenging, engaging, and inspiring learning setting. With outstanding faculty and staff, dynamic weekly chapel services and fantastic residence life and student organizations, CBC students are connected to internships, service opportunities and leadership development on-campus and local nonprofit organizations. You can be a part of the "CBC experience" to impact your world!
Admissions Information
Requirements
The ACT is the preferred college entrance exam; however SAT, ACCUPLACER, ASSET or COMPASS test scores are used for placement purposes. Please visit cbc.edu or contact for placement score standards.
Admissions Phone
(501) 329-6873
Scholarship Information
Highlights
More than 50 endowed scholarships and five levels of academic scholarships available. Dec. 10 and Feb. 15 are priority application deadlines. Athletic and Music scholarships are also available and awarded by the specific team coach or Music Director. All institutional scholarships are renewable annually and according to the Federal Student Aid Satisfactory Academic Progress Policy. Contact the Financial Aid Office for details.
More Information
Click Here
Scholarship Email
admissions@cbc.edu
Scholarship Phone
(501) 329-6873
Tuition Information
Bilingual Admissions Contact
N/A
Financial Aid Information
Highlights
Institutional scholarships are awarded based on achievement and federal and state aid are awarded based on estimated family contribution (EFC). Any FAFSA's received after July 31 will not be processed until registration. Alternative payment arrangements will have to be set up with the Business Office in order to be able to start classes. Award letters for late FAFSA's will be processed as time allows after the semester begins.
Financial Aid Contact
Tonya Hammontree
Director of Financial Aid
Financial Aid Priority Deadline
Dec 15, 2022
Degree Programs
General Education
General Education-Science
Military Technologies
Accounting
Biology
Business Administration
Elementary Education
Health & Physical Education
Health Science
History
Human Resource Management (or Human Resource & Workforce Development Education)
International Business
Kinesiology (or Kinesiology & Leisure Studies, or Kinesiology–Exercise Science, or Kinesiology & Physical Education)
Kinesiology–Sports Management
Leadership
Leadership & Ministry
Management
Management Information Systems
Marketing
Middle School Education (or Middle Level Education, or Middle Childhood Education, or Middle Childhood/Early Adolescence )
Missions
Molecular Biosciences
Organizational Management (or Organizational Leadership)
Psychology
Psychology & Counseling
Psychology & Social Services
Secondary Level–English/Language Arts
Secondary Level–Social Studies
Worship Arts (or Worship Ministry, or Church Music)
Communication
Family Psychology
General Studies
American Sign Language (English)
Bible & Missions
Business (General)
Business Administration–Sports Management Concentration
Business Analytics
Business Information Systems
Communication–Public Relations
English
Exercise Science
Intercultural Studies (Choose focus in: General, Community Development, International Studies or Intercultural Ministries)
Journalism
Liberal Arts/General Studies
Multi-Media Journalism
Music Education (Choose focus in: Organ, Piano or Voice)
Music–Applied (Choose focus in: Organ, Piano or Voice)
Music–General (Choose focus in: Organ, Piano, Instrumental Music or Voice)
Public Relations
Sports Management (Choose focus in: Athletic Administration, Coaching or Sports Information)