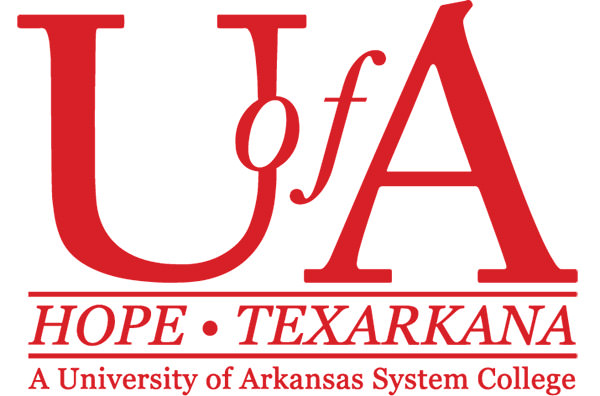 University of Arkansas Hope-Texarkana
2500 S. Main
Hope, AR 71801
Phone: (870) 777-5722

Online: uaht.edu
The mission of the University of Arkansas Hope-Texarkana is to connect students and community partners to quality learning through effective and timely educational technologies, student-centered support services, and emerging content delivery methods that support excellence in teaching and learning, value in training and workforce development, advancement in life-long learning, and elevation in civic and cultural enrichment.
Admissions Information
Requirements
High school diploma or GED; ACT, or Accuplacer scores used for placement only; open admission.
Admissions Phone
(870) 722-8228
Scholarship Information
Highlights
Each scholarship has unique requirements and is awarded on an annual basis.
More Information
Click Here
Scholarship Email
jennifer.wright@uaht.edu
Scholarship Phone
(870) 722-8228
Tuition Information
Based on Hempstead County resident status.
In-state Tuition
$1,110.00
Additional Annual Fees
$525.00
Annual Fee Notes
Other program-specific fees may apply.
Financial Aid Information
Highlights
Financial Aid is awarded based on priority deadline.
Financial Aid Contact
Marla Bush
Director of Financial Aid
Degree Programs
Business
Business Computer Information Systems (or Business Information Technology, or Business Information Systems Technology)
Crime Scene Investigation
Criminal Justice
Early Childhood Education/Development - Birth to Pre-K credential
Emergency Medical Technology (or Paramedic, or Emergency Medical Technician)
General Education
General Studies
General Technology
Human Services
Information Systems Technology (or Information Technology, Information Science Technology or Information Systems)
Law Enforcement Administration
Power Plant Technology
Computer Information Systems Technology (or Computer Information Technology)
Early Childcare Education
Health Professions
Nursing-LPN/LPNT TO RN
Education
Funeral Services
Child Development (or Child Development Associate)
Crime Scene Investigation
Diesel Technology
Emergency Medical Technician (or Paramedia, or Emergency Medical Technology or Emergency Medical Technical-Basic, or EMT)
General Studies
Heating, Ventilation & Air Conditioning (or HVAC or HVAC/R Fundamentals)
Industrial Maintenance Technology
Industrial Technology
Industrial Technology-Mechanical
Information Systems
Law Enforcement Administration
Nursing Assistant (or Nursing Assisting, or Nurse Assistant)
Welding
Welding Technology
Solar Technology
Funeral Science
Phlebotomy (or Phlebotomy & EKG, or Phlebotomy Technician, or Phlebotomy Technology)
Air Conditioning, Heating & Refrigeration Technology
Business Technology
Crime Scene Investigation
Diesel Technology
Emergency Medical Technician (or Paramedic, or Emergency Medical Technology, or Emergency Medical Science Technology, or Emergency Medical Services)
Funeral Science (or Funeral Directing)
Health Professions
Heating, Ventilation & Air Conditioning (or HVAC, or HVACR)
Industrial Electronics (name varies greatly by school)
Industrial Maintenance (name varies greatly by school)
Information Systems Technology (or Information Systems, or Information Science Technology)
Law Enforcement Administration
Practical Nursing
Welding Technology
Computer Information Systems (or Computer Information Technology, or Computer Information Systems Technology)
Early Childhood Education
Industrial Mechanics & Maintenance
Industrial Technology (name varies greatly by school)
Machine Shop
Paramedic (or Community Paramedic or Paramedic Technology)
Electromechanical Technology