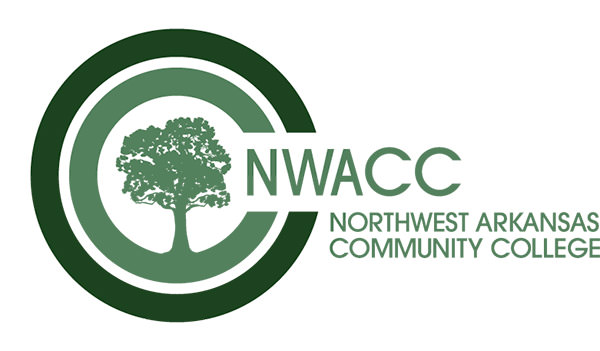 NorthWest Arkansas Community College
1 College Drive
Bentonville, AR 72712
Phone: (479) 986-4000
Fax: (479) 619-2661
Online: www.NWACC.edu
NorthWest Arkansas Community College is a comprehensive, public two-year college that serves to empower lives, inspire learning, and strengthen community through accessible, affordable, quality education. The commitment of NWACC to lifelong learning can be seen in the quality of instruction it offers. There are a variety of programs designed to move students into the job market, enrich their lives and prepare them for further higher education, if desired. Quality instruction and programs: The hallmark of NWACC is its quality of instruction. Its classes are taught by experts in class sizes that are small, providing for more personalized instruction. Transfer courses are taught by instructors with a master's degree or higher. Background on NWACC: NWACC opened its doors to 1,200 students in August 1990 and now has just under 7,800 college credit students, making it the largest two-year college in Arkansas. An additional 5,000 students are served through non-credit courses throughout the college's two-county service district of Benton and Washington counties. NWACC was founded by a vote of the people of Bentonville and Rogers on August 15, 1989. NWACC is accredited by The Higher Learning Commission.
Admissions Information
Requirements
High school diploma or GED; ACT, SAT, required for placement only; some programs have additional requirements. Open admission.
N/A
Admissions Phone
(479) 986-4000
Scholarship Information
Highlights
NWACC offers over 130 privately-funded scholarships to assist students with the cost of higher education. The availability, application type, qualifications and award amounts are subject to change and can vary from academic year to academic year. Scholarships are available annually: For all students during Dec. 1 to March, which awards the following academic year, and Nursing students during September to October for current nursing students, which is awarded the current academic year. Students must be enrolled or will be enrolled at NWACC during the semester(s) for which the scholarship will be awarded, and they must meet all requirements for an NWACC scholarship to qualify to apply.
More Information
Click Here
Scholarship Email
scholarships@nwacc.edu
Scholarship Phone
(479) 619-4316
Tuition Information
Bilingual Admissions Contact
Erika Garcia
(479) 986-6769
Financial Aid Information
Highlights
43% of students receive financial aid; abundant work study opportunities; Financial aid deadlines: Summer and Fall: May 1, Spring: Nov. 1
Financial Aid Contact
Michelle Cordell
Director
Degree Programs
Agriculture (or Agricultural, Food & Life Sciences, or Agriculture & Natural Resources)
Business
Certified Respiratory Therapist
Computer Information Systems
Computer-Aided Drafting & Design
Construction Technology
Criminal Justice
Culinary Arts
Emergency Medical Technology (or Paramedic, or Emergency Medical Technician)
Environmental Regulatory Science
Fine Arts
Fire Science Administration & Technology (or Fire Science Management)
General Studies
Graphic Design
Health Information Management
Nursing (or Registered Nursing)
Physical Therapist Assistant (or Physical Therapy Assistant)
Accounting
Applied Electronics Technology
Arts
Business Technology (Choose a focus in: Banking, Human Resources Management or Supply Chain Management)
Child Care / Child Development
Computer Network Technology (or Computer Networking Technology, or Computer Systems & Networking Technology)
Early Childcare Education
Entrepreneurship
Funeral Services
Health Sciences (choose emphasis: Practical Nursing or Pre-Sports Medicine)
Liberal Arts (or Liberal Studies)
Logistics Management
Music Business
Paralegal Studies
Pre-Engineering
Baking & Pastry Arts
Culinary Arts/Hospitality
Fire Science
General Business
General Education-Liberal Arts
Liberal Arts & Sciences
Nursing-LPN/LPNT TO RN
Paramedic/Emergency Medical Services
Respiratory Care (or Respiratory Therapy, or Respiratory Care Technology)
Visual & Media Arts
Artisanal Food
Beverage Arts
Child Advocacy Studies
Baking Arts
Construction Technology
Crime Prevention & Corrections
Culinary Arts
Electronics Technology
Emergency Medical Technician (or Paramedia, or Emergency Medical Technology or Emergency Medical Technical-Basic, or EMT)
Environmental Management & Regulatory Science
Environmental Management-GIS Technician
Forensic Science
Graphic Design
Horticulture
Law Enforcement
Media
Nursing Assistant (or Nursing Assisting, or Nurse Assistant)
Paramedicine-Community
Pre-Health Sciences
Safety & Health
Workforce Readiness
Criminal Justice
Dental Assisting
Early Childhood Education (or Early Childhood Development)
Fire & Emergency Response
Health Information Billing & Coding
Computer Tomography
Environmental Health & Safety Technology
Practical Nursing
Artisanal Food
Beverage Arts
Accounting Technician (or Accounting Technology)
Baking & Pastry (or Baking Arts)
Child Advocacy Studies (CAST)
Construction Technology
Criminal Justice
Culinary (or Culinary Arts)
Dental Assisting (or Dental Assisting Technology)
Emergency Medical Technician (or Paramedic, or Emergency Medical Technology, or Emergency Medical Science Technology, or Emergency Medical Services)
Entrepreneurship
Environmental Management & Regulatory Science
Environmental Regulatory Sciences
Funeral Science (or Funeral Directing)
General Business
Graphic Design
Health Information Management
Logistics Management
Mechanical Design
Media
Networking
Pre-Health Care Studies
Accounting
Electronics
Fire Science
Heating, Ventilation & Air Conditioning (or HVAC, or HVACR)
Information Systems Technology (or Information Systems, or Information Science Technology)
Law Enforcement
Business Computer Information Systems
Computer Networking Technology
Computer-Aided Design
Early Childhood Education
General Studies
Computer Information Systems (or Computer Information Technology, or Computer Information Systems Technology)
Computer Systems Technology (or Computer Network Technology, or Computer Networking Technology, or Computer Systems & Networking Technology, or Computer Systems Technology)
Health Information Billing & Coding
Health Information Technology
Artisanal Food
Beverage Arts
CAD-Architectural
Cinematic Studies (CNE)
Crime Prevention & Corrections
Forensic Science
Horticulture
Integrated Design
Retail