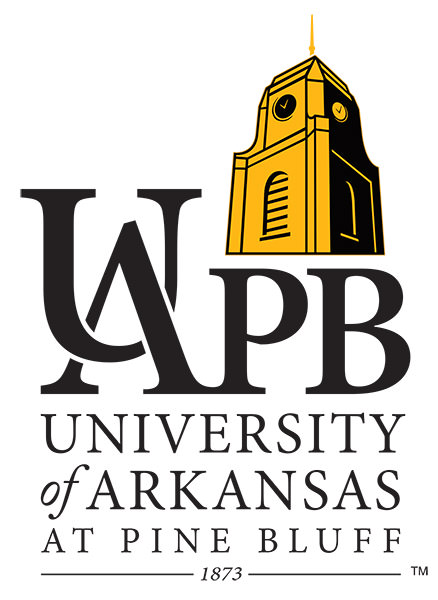 University of Arkansas at Pine Bluff
1200 N. University Drive
Pine Bluff, AR 71601
Phone: (870) 575-8000
Fax: (870) 575-4607
Online: uapb.edu
Access and opportunity are the foundation of the University of Arkansas at Pine Bluff. And as we celebrate our 150th anniversary this year, we celebrate the students and alumni who have reached beyond their circumstances to become who they want to be. UAPB's designation as an 1890 land-grant institution means that our mission to serve a diverse student population and foster learning, growth and productivity will never change. Our core values of empowerment and accountability drive our tight-knit community of educators and learners and create the optimal environment for student success while challenging curricula encourage students to seek and fulfill their potential. UAPB has myriad options for students to excel no matter where they are in their educational journey. Our programs range from Certificate and Associate degree programs to more than seventy baccalaureate programs— including our B.S. in Engineering and B.S. in Cybersecurity programs, both a first for an Arkansas HBCU— and more than a dozen Master's degree programs, including our MBA. Students can also develop workplace readiness through internships, co-ops and fellowships in the U.S. and abroad. UAPB has an extended campus in North Little Rock, Research and Extension offices in Lonoke, Newport and Lake Village. Our 1890 land-grant designation continues to pave the way for innovations in technology, agriculture, medicine, and business, underscoring that UAPB shapes the minds that go on to reshape the world.
Admissions Information
Requirements
Completed the high school core curriculum and received the diploma or the equivalent. An ACT score of 19 or above or SAT score equivalent (1330 or above OLD TEST) or 980 (NEW TEST). A high school GPA of 2.00 or above.
Admissions Phone
(870) 575-8492
Scholarship Information
Highlights
The academic scholarship program at UAPB is designed to recognize and reward students who have excelled academically. Institutional scholarships are based on availability of funds. Awards are made on a first-come, first-served basis until all funds are exhausted. To be considered for a scholarship award, you must have applied for admission and submitted your transcript and test scores to the Office of Admissions. Scholarships include: the Chancellor's Scholarship of $16,500 annually; the University Scholarship of $12,000 annually; the Dean's Scholarship of $5,000 annually; the Transfer Student Scholarship of $5,000 annually; the Leadership Scholarship of $2,000 annually; the RN to BSN Scholarship $2,500 of annually; the Pride Transfer Scholarship of $2,500 annually; the Diversity Scholarship of $1,500 annually; and the Golden Lion Scholarship of $1,000 annually.
More Information
Click Here
Scholarship Email
recruitment@uapb.edu
Scholarship Phone
(870) 575-8960
Tuition Information
This number includes tuition and fees: uapb.edu/admissions/cost_of_attendance.aspx
In-state Tuition
$8,668.00
Additional Annual Fees
$8,866.00
Annual Fee Notes
This number represents room and board only. Additional costs of attendance can be found here: uapb.edu/admissions/cost_of_attendance.aspx
Early Application Deadline
Rolling Admissions
Financial Aid Information
Highlights
Financial aid is awarded based on priority deadline. Awards are made in compliance with federal, state, and institutional policies and are initially awarded based on the assumption of full time enrollment for each student. After the enrollment reporting is completed each semester (census period), and students' initial class attendance is determined, awards may be adjusted and or cancelled based on the students' final enrollment status.
Financial Aid Contact
Janice Kearney
Interim Director of Student Financial Services